Øer Maritime Ferieby
Yacht charter from Øer Maritime Ferieby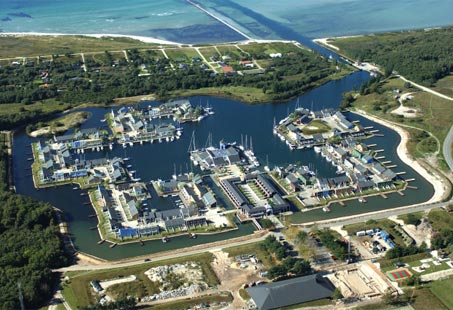 N: 56° 09′ 03″ E: 10° 41′ 20″
You will find Øer Maritime Ferieby, just a few kilometres from Ebeltoft.
The Marina is unique with all facilities: Restaurant, shopping, free swimming-pool sauna, and sportscenter, where all our charterguests are welcome. Øer Maritime Ferieby has 2,6 km dock and room for more than 300 boats.
There is a service buildings on each of the artificial islands with toilets, shower laundry and phones. There is also access to a wireless Internet connection.
Water and electricity is found on all bridges. A lock gives access to the harbour, which is 1.6 m above sealevel.
Distance from Ebeltoft: 6 km
links:
weather | website | marinas.com
Hire boat:
view boats in Øer Maritime Ferieby
Provisioning
A newly opened grocery store gives you the possibility to shop just next to the marina. When closed you can head to Ebeltoft where large supermarkets have long opening hours.
Cruising suggestions
Heading out from Øer Maritime Ferieby gives you a wide variety of harbours and marinas to sail to considering the weather and wind directions.
Try the car free island Tunø or the desert-like island Anholt with its interesting wildlife. The island Samsø is also very close to Øer.
For longer excursions Funen's cosy atmospheric marinas and the east coast of Jutland can be explored. You can also head out for Sweden (deposit is doubled).