Yacht Charter Greece
Yacht Charter Greece
Greece features some of the most popular destinations for sailing in the world – the Saronic Gulf and the Cyclades, the Sporades Islands, the Dodecanese Islands and Corfu, Lefkada and the Ionic Islands, will definitely ring a bell with most sailors.
A yacht charter in Greece will bring you within sailing distance of hundreds of pristine and beautiful islands, thousands of kilometers of fabulous beaches, traditional towns and ancient authentic fishing villages  – all surrounded by the exquisite blue water of the Adriatic Sea and the Mediterranean.
You'll find quaint little towns with the relaxing "if we don't make it today, we´ll make it tomorrow" atmosphere" that the Greek islands are so famous for – and one of the reasons why they are the perfect place to forget the hustle of everyday life.
Navigation in this part of the world is generally straightforward – and skippers with basic skills in coastal navigation will find sailing here to be very manageable and stress free. Scancharter will provide you with a large selection of quality yacht charter boats available for boat hire, for example Bavaria, Beneteau or Jeanneau. Check out available sail boats for Yacht Charter in Greece on sea-travel.com
Yacht Charter Athens and the Saronic Golf – Yacht Charter Corfu and Lefkada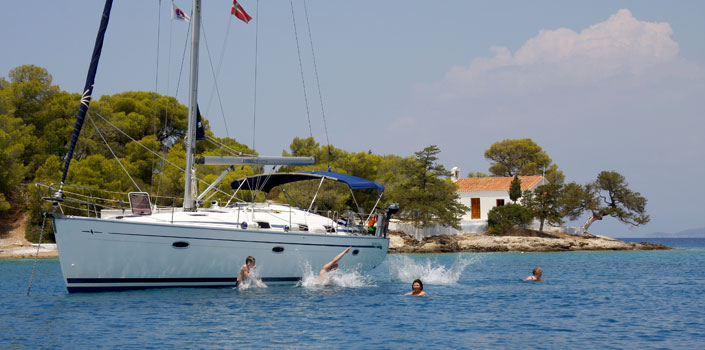 Yacht Charter Croatia